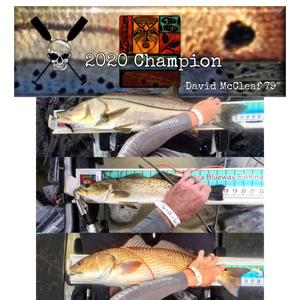 Slamming in the yak, tourney style!
What sounds weird is I don't know which I love more, fishing or preparing for a fishing trip.  There is no trip that compares to the thrill of preparing for a tournament.  The anticipation, the nervous, hopeful energy all culminating into exhilarating satisfaction when a plan comes together!  
Recently, I participated in the charitable Calusa Blueway Kayak Fishing Tournament benefitting the Southwest Florida Candle Lighters.  Here is my story of preparation, strategy, execution, and lessons learned.    
First let me say, I don't always fish tournaments but when I do, it is for charity.  The first thing I do in preparation and strategy is to review the rules.  What is the objective: catch, photo, and release of the longest Florida inshore slam (which consists of Snook, Red Drum, and Spotted Seatrout).  This particular tournament boundaries are any Lee County Florida publicly accessible waters.  What type of bait: no holds barred.  Live, artificial, cut bait, they're all legal.   What times do I need to be conscious of: legal launch, check in, and weigh in times? Any other miscellaneous rules to make note of?  Such as, what is a paddle craft defined as?  Are motors of any kind allowed?  Is taxing or ferrying allowed?  
Now that I have the rules down, it is time to check weather, tides, water & wind conditions.  A low grade hurricane/tropical storm had just past through a few days before this tournament and brought with it heavy rains and approximately a four foot storm surge.  The water will most likely be murky and low in salinity in most intercostal areas.  This tells me I don't need to be shy with the leader strength and any baits I use should be visibly flashy, noisy, and scented if possible.  The weather is forecasted to be fair mostly sunny and low probabilities of rain and thunder storms during the tournament times. Wind is forecasted to be stronger in the morning hours blowing in from the east/northeast at 10-13 MPH dying down to 2-3 in the afternoon.  I should look for areas that will offer protection from the wind.  The tide around all coastal Lee County waters shows a negative low tide between the hours of 5:00-6:45am with a 1.4' swing by 3:00pm so a good incoming tide should make for great moving water during the entire fishable tournament time.  I need to be cognizant about launch and navigable areas with a negative low tide right around launch time.  I don't want to pick a primitive launch area where I would have to drag my kayak through a 500 yard mud flat.  
The launch location:
Since I know the area, 3 launch points come to mind that would give me adequate wind protection and possess the right accessible structure that will definitely hold fish in these conditions.   I have to choose the most strategic area considering time management.  If I were fishing a new area online satellite imagery (i.e. Google Maps) is a handy tool!  I chose to go with the Punta Rassa  area best accessible through Port Sanibel Marina.  Mainly, I chose this area because of close proximity to where I live and gaining bait at the appropriate times worked well in this scenario.  
The float plan:
Rules dictate that 6:30am is the safe first light to launch by, and prior to launch you must take a picture of your fully rigged paddle craft and tournament token for submission later. 
From the marina, my plan is to race out to several oyster bars I know of in Punta Rassa Cove using the boat channel.   On my way out, I'll be trolling an artificial swim bait along the way to see if we get lucky with a patrolling red or snook along the way.  Two of my favorite lures to troll with are the Live Target Scaled Sardine or the DOA® Bait Buster Trolling Model.  Once I reach the oyster bars, I'll walk the dog with a top water on small channels around the bar in the early morning light.  Depending on that outcome, I'll either try shaking bushes on the nearby mangrove lines with live shrimp and/or a favorite search bait of mine a Z-Man scented paddle tail on a weighted shank twist lock hook.  While moving from structure to structure, I'll troll an artificial swim bait over grass flats to hopefully make short work of the trout.  Once I have a decent red and snook, I'll focus my attention on the potholes and grass flats, fan casting search baits until I find the spotted fanged devil to complete the slam!  Once slammed, I'll start working my way back to launch point on the opposite side of Connie Mack Island hitting docks and one bridge to see if I can upgrade the snook or red.  That's the plan anyway.... let's see what reality checks out with.  
The preparation:  
The night before, is when the hard work starts.  Set out all the gear, organize the tackle, load up the kayak.  I want to take four rods, all set up slightly different.  First thing first, let's strip off approximately 20-30 yards of the line presently spooled on the reels (it's been a while and we don't want old braid to be the cause of losing a fish).  Then tie on 3-5 feet of brand new leader.  Because the water is supposed to be murky, I'm using 30# Seaguar Blue Label on 3 of the rods and 40# on the last.  My preferred knot is the FG Knot for line to leader (as an alternative, I'll use the Albright Knot).  Now to tie on all my terminal tackle, I use the RFA Perfection Loop Knot as it allows great action of both live and artificial baits.  For the first rod, a top water.  The Heddon® Spook® Jr. in Bone/Silver color is a must have and never has failed me for targeting all three species!  On the next rod, I tie on a weighted shank twist lock hook for artificial search baits.  Then I need my trolling swim bait, I'll go with the trusty confidence lure of Live Target® Scaled Sardine.  On the last rod, I prepare an Owner® 2/0 Light MUTU circle hook to use for live or cut bait.  
I grab my tackle bag to go through it and double check that I have what I need and remove what I don't.  As you might assume, space is limited on a kayak.  This is all I took for tackle:  
I always try an pack light on tackle and tools and purposely keep my tackle bag small to avoid overdoing it.  My tackle bag is actually a thigh drop medical bag.  We can dive into my tackle bag in another week's  blog.  Some quick mentions on other gear essential for tournament fishing though: Portable charger/extra battery for phone (since this is what I take my photos with), RF handheld radio, NoNatz® insect repellent, sunscreen, lens cleaner and small microfiber wipe, etc.    
 Other essential tools that won't fit in my tackle bag to ensure I have on tournament day:  The Rebel Fishing Alliance bump board.  I designed this particular board with paddle craft tournament anglers specifically in mind.  It's long enough to cover most inshore game fish (45" total length).  It is rigid enough to lay over your lap or on the gunnels of your kayak with bungee lashings to secure a fish in place while you pinch the tail with your free hand and snap the picture with the other.  
Also cannot forget the RFA Bucket and Bait Butler™ live well system.  My game plan includes fishing with live shrimp and need to keep them alive and healthy.  The integrated bait butler net system makes retrieving bait really easy from the kayak.  
 I can't forget my paddle, Hobie Mirage Drive, pin anchor, Bruce anchor, PFD, and small cooler with waters and lunch.  I think we've got everything prepped and ready to go.  Let's set that alarm and count some redfish jumping over the oyster bar!
The big game, tournament day!
4:49am, I'm staring at the ceiling waiting for my alarm to go off.  I reach over and shut it off before it sounds to hopefully allow the family and dog to sleep.  Quietly I get dressed (quick dry UPF50 pants, long sleeve tournament shirt, neck buff, and RFA capture hat).  While waiting for my coffee to brew I finish loading the truck with everything I set out.  Grab my coffee to go in my lucky Tervis Tumbler and hit the road.  The Life, by Kenny Chesney comes on the radio while I'm sitting at a red light and I think to myself, "yep this is the life!".  I get to the Marina and run into a friend and fellow competitor in the parking lot unloading their kayak.  My heart sinks when I see her life jacket and realize I forget to grab mine!!!!  Good thing I picked a close launch spot.  35 minutes later I return with a feeling that I'm already behind the eight ball before I even start.  I rush to get everything unloaded and set up and launch 15 minutes behind schedule.  
The water (while extremely low) was teeming with life.  Ladyfish were pecking off baits on top water and I heard a few canal tunas smashing nearby.  I have about a 10-15minute paddle to my first target area so I throw out a live target lure to troll past the docks and mangrove lines on my way.  Although I hear a lot of activity and see mullet jumping and swirling everywhere I look, not a sniff on the lure I'm trolling.  I paused momentarily a few times to throw the top water at what I thought were gamefish boils but no dice.  My 15 minute paddle turned to 30 because of my distractions.  I couldn't help but feel I'm really behind now.  
Finally to my spot, I wanted to be set up on the other side but would have to take the long way around as it was too skinny to navigate without spooking any nearby targets.  Looking to my right I saw a cut with moving rippling water in between two oyster bars.  "Wow that's look fishy", I thought.  I chucked my top water (Heddon® Spook Jr. Bone/Silver color ) about 5yrds past the cut and started walking the dog back toward me.  A huge splash and a fat girthy tail with a black line ending abruptly at the fins breached the water.  She missed it, my heart instantly started racing.  In a fraction of a second I thought, "What do I do? What do I do? Do I continue walking the dog, do I just retrieve and set up again?"   Instinctively I twitched the rod giving that side to side action and she didn't miss this time!  Fish on!  I kept my drag light and let her take a few screamer runs as I wasn't too close to mangroves and I didn't feel there was enough water to allow her to get over the oyster bars.  She came out of the water in one of those big Snook kind of ways and thrashed her head.  I was awed by her meaty shoulders and the size of her head and in the heat of battle didn't think about the tournament.  That is until I got her boat side, I estimated she was all of 35" maybe more.  But my palms got sweaty and my legs started shaking when I saw that she wasn't hooked very well.  "Oh my good lord, I never opened and prepared my net", I thought in horror.  I grabbed the leader and set the rod down in between my legs reach over to cradle her into the yak.  She gave one more head shake, thrashing into the side of the kayak with thuds that rang in my head as sonic booms as she swam away.  I sat there with my leg uncontrollably shaking and my mouth and eyes gaped wide in disbelief and despair.    
I had to shake it off.  I picked up my rod and started fan casting that area.  After about a dozen or so attempts I pulled anchor to start the long away around to where I wanted to get set up originally.  Negative thoughts, surrounding losing that fish, started taking me to the dark side.  "Stay positive, it's still early", I kept telling myself.  I got to where I wanted to be set up.  2 mangrove islands in close proximity with oyster bars right off their line and a deeper channel running between them.  I set up right in the middle of that channel about 30 feet in between me and the mangroves and the oyster bars up ahead.  I started fan casting the top water from the point of one mangrove island to the cut.  Nothing.  Then I hear the unmistakable patrol of Steve as he sauntered for a breath.  Steve is who I call all the porpoise.  "Dammit Steve, not again", I thought.  I switched to live shrimp and threw it up near the oyster bar until the porpoise passed.  I grabbed my top water again and cast into the cut between the mangrove islands.  Not a huge explosion but fish on!  Running hard and circling the kayak, I knew I had a slot red on. Not the biggest but respectable.  I'm on the board!
Nothing more from that spot after attempting a few different tactics and baits.  I moved to another nearby spot where the incoming tide and wind was both flushing baits into a small armpit cove in the mangrove line.  I immediately free lined some shrimp and to no surprise 3 smaller snook and 2 smaller reds were landed.  Kicking myself still for loosing that big snook, I searched for the right shrimp and pulled a whopper that just screamed snook candy to me.  I cast down the mangroves away from the cove and pulled out my phone to check the time, 9:19am.  When I refocused my attention to my bait I had out, I saw my line moving rapidly down the mangrove line towards me.  I tightened up the line and it was game on!  I couldn't tell right away what it was, but definitely a big snook or red.  Once she knew she was hooked it ran for the mangroves... Snook!  I tighten down the drag and let her run side to side, making sure to turn her head when she wanted to run for structure.  This time my net was prepped and ready.  I figured, I knocked enough green off her to bring her in.  One coordinated dip of the net and stretch of the rod arm and she was in!  But.... f@*#, the net collapsed.  I held her close to the side of the yak, pinned so she couldn't thrash.  I opened the bail with a flick of my thumb and dropped my pole in the rod holder and used both hands to hoist her on board. I wasn't going to lose this one!  Not the chunky silver queen I had earlier but a good tournament line sider!  
Got my picture and verified it was good enough to stand.  After a healthy release, I took a minute to gather my thoughts on how I wanted to proceed next: immediately go finish the slam or stick around and try and upgrade my red.  I decided to try a few more casts at this spot but no upgrades.  I pulled anchor and headed toward the grass flats trolling a live target scaled sardine lure as I made my way there.  After 30 minutes or so of trolling the grass flats with no luck, I found a spot to drop anchor and start searching with a 5.5" Dart Spin Pro in see through green back color with a gold spinner tail.  On the 4th cast I saw a swirl on my lure.  I slowed the retrieve and two twitch, twitch pauses, the unsure Spotted Seatrout took the bait on the fall.  I got him in the kayak and snapped the photo on the board although I already made my mind up that I would look for a bigger one.    
I thought to myself, "what time is it?" A quick time check showed me it was 11:15am.  Plenty of time, or so I thought.  Another two hours past as I tried to upgrade my trout.  Every time, I got a hit my heart pounded with excitement but all the trout were smaller than the first.  I moved to several different healthy grass flats in 4+' of water.  I tried several different artificial lures, all larger because big baits = bigger fish right?  Then.... wack!  A nice hit from a larger fish on a speedy retrieve!  I was sure this was my 20+" speck I was after!  It was 20+ inches alright, but when that poor man's tarpon took to flight, my stomach dropped again.   I Released that monster lady fish and thought to myself, "what am I doing???? the best hope I have in upgrading my trout is to add maybe 6-8 inches (if I'm lucky) to my score.  I need to upgrade my Red!  I know there are close to 40" spot tails in this area"  
I started working my way back to the launch to hit some of my trusty haunts.  I'll save the suspense, no dice.  I called it and headed back to the launch to give myself enough time to get my catches submitted.  I knew that the quality of anglers in the field of 70 that a 66" slam would not take it but hoped to at least place in the top 10.  I was satisfied though with my performance.  I had a plan, I stuck to it and I slammed before 11:30!  66" was enough for me to place 8th out of 70 anglers.   
Lessons Learned:
Before casting your first first line make sure your net is prepped and accessible.  This cost me at least 5" and potentially the biggest snook of the tournament that day.  
Put my token bracelet either on my left hand or secure to the bungee lashings on my board so I can pinch tails while taking the photo with my dominant right hand.  This cost me at least an inch maybe even 1.25".  
Think strategically sooner.  If I had not wasted almost 2 hours trying to upgrade a trout, I had a better chance upgrading my red for more inches to the total score.  I had frozen mullet and a couple large pinfish to use as cut bait and I'm certain I could have got a 30+" red had I devoted the time.
Lastly, strap my PFD to my kayak seat while prepping.  It turns out I wasn't the only one who forgot their PFD.  The person who took 1st lucked out and another competitor lent him an extra because he forgot his.
The most important lesson I didn't have to learn.  I had fun, contributed a great cause, and felt accomplished even though I didn't win!  May the fish be with you!
---